Fashion is the way I introduce myself to the world, every day, without saying anything.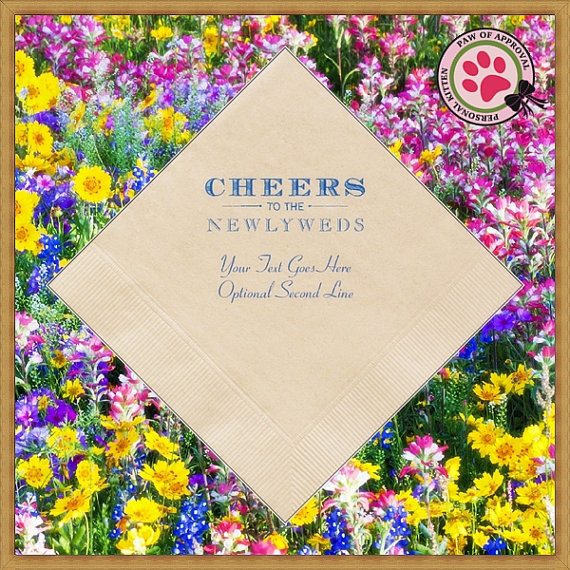 Last night my friend Julia and I talked wedding for a solid 45 minutes. During this time, we both expressed our immense love of etsy throughout the planning process. It really is the best place to go when you need, well, anything wedding related. What's great is that you can work directly with shop owners to create custom orders, so really, the world is at your proverbial fingertips. Below I'm outlining my favorite shops, feel free to comment with questions!

Vendor: Personal Kitten
What We Purchased: cocktail napkins and stadium cups
The Process: The owner, Randy, personally emailed me to discuss options for the napkins we wanted. He was prompt, personable and knew exactly how to do what we wanted.
The Result: These napkins are almost too pretty to use.
Vendor: Sweet Carolina Collective
What We Purchased: wooden signs
The Process: One of my dear clients (hey, Sam!) recommended this vendor to me and I'm so glad she did. Meg and I spent actual weeks communicating about signs. She always responded immediately and was patient as I waited for files from the calligrapher.
The Result: I can't even get into how gorgeous these signs are. I can't wait to share!
Vendor: Breeze Bot Punch
What We Purchased: Custom embroidered item (it's a surprise!)
The Process: If you want anything embroidered, contact Breezy. She delights in custom orders and is up for anything. She's really excited about the brainstorming process and has awesome ideas for how to make your order extra special.
The Result: She's the shit, her stuff is gorgeous and made with love.
Okay, talk to me, friends! Spill your etsy recs…
xoxo,